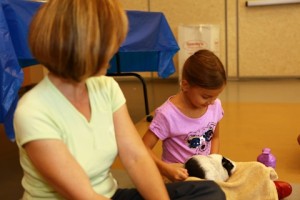 So…what makes you so unique?
We work solely with companion animals (pets). If you're trying to find out what the best pet for your child may be, this is a great way to find out! The kids have fun while both you and your child learn "the basics" of taking care of a small pet.
We focus on bringing animals that can be adopted from  Humane Societies and other animal rescue organizations. Association for Human-Animal Bond Studies encourages people to adopt a pet and to be sure he/she will fit into your lifestyle.
Awesome!  My kids have been begging for a puppy! Can we have a Puppy Party? 
We don't bring dogs or cats, but we will supply LOADS of information about caring for them and a list of local animal shelters where you can adopt!  Your choice of three animal visitors include, guinea pig, bearded dragon (lizard), rats, or a dove!
This is the cool part…the animals we do bring are all touchable (yes, even the dove)!  If you are thinking of adopting an animal, of course you want to be able to touch the animal!
How does this program work?
Critter Companions is 45-minutes to one hour in length. A Critter Companions program is not a formal "assembly-type" presentation but an interactive experience where we want the kids to handle the animals while learning how to care for and respect them. Also, we are a nonprofit 501(c)(3) organization!
If there is a birthday child, along with meeting 3 great animals, your child will receive a $10.00 gift certificate to Wee Companions (small pet adoption center)  AND a Critter Companions t-shirt!
Can Critter Companions visit our Girl Scouts?
Absolutely! We are a Girl Scouts San Diego Community Partner!  With our Critter Companions program Brownies can earn their "Pets" badge and Juniors can earn their "Habitats" badge. This  fun and interactive 90-minute program meets all requirements for the badges and will have the girls working in teams to help decide what animals need or the best habitats for animals…and they get to meet an animal visitor!  We are excited about our new Women in Wildlife program for Juniors and Cadettes! Fee is $12 per child (including siblings) and includes the badge.  Just call (619) 405-3207 or email Info@animalbondstudies.org for more information and to schedule a Critter Companions program for your Girl Scout troop!
Are the animals healthy? 
Yes, the animals are healthy! All of our Critter Companions representatives have been checked by a veterinarian who specializes in small animal/avian care.  They have all been adopted from humane societies or other animal rescue organizations and most of them have been members of animal-assisted therapy programs.
All of our animals are handled regularly and are part of Critter Companions/Association for Human-Animal Bond Studies because they are socialized and like to be around, and handled by people.
How do I schedule a Critter Companions program?
Just call us at (619) 405-3207 or email Info@animalbondstudies.org and we'll work with you on set-up. This will be dependent upon the number and ages of participants. Our fees begin at $175 and we ask for a $50 deposit to hold your date and time (the deposit is applied toward the final cost of the program). Also, Critter Companions Educators' have received background checks and are professionals in the fields of animal welfare, education and early childhood development.
Donations to Association for Human-Animal Bond Studies/Critter Companions are tax-deductible (check with your tax advisor).  All funds stay within the organization and go directly to the care of the animals you will meet!
Want to see us in action? Watch this video of us helping out at a Nature and Me storytime at the San Diego Natural History Museum
Video credits: Channel 4 SD , COX Media and NBC 7/39